Let us know if you need the original or a photocopy apostilled. A photocopy can be emailed.
The original NI letter can be delivered in person (24 hours) or posted to our office in Westminster, London.
Once we receive the National Insurance Number (NINo) letter, getting an apostille usually takes 2 days, and costs start from £110, including solicitor fees and FCDO fees.
We can return the legalised NINo letter via DHL courier (next-day service) or you can collect it in person (24 hours).
Please note, that UK National Insurance number letters do not yet qualify for an e-Apostille.
Jump to: How much does it cost? | How long does it take?
 The full order process: 
Step one:
Make sure that your National Insurance letters can be legalised with an apostille. Both the original letter and a photocopy of the original can be used for the apostille.
Step two:
Contact our office.
When emailing, please provide the following information:
Your NINo letter will be used in what country?
How soon do you need the apostille?
Do you also require embassy legalisation?
How will the NINo letter be delivered and returned?
When we have all the information, the team will assess your enquiry and give you a personalised and detailed quotation.
If you accept the quote, we will send an invoice to be paid, and the process of getting the apostille starts.
Step three:
As soon as your National Insurance Number letter has been apostilled, we will send you a scanned copy via email.
If you are not collecting your apostilled document from our London office – we will provide you with the DHL tracking number given by the courier.
Note that we return documents by DHL courier only. If you want to make other arrangements, please let us know.
The cost of getting an apostille for a UK National Insurance Number letter starts from £110.
Other costs will depend on what service you choose (standard or express service) if you need embassy attestation, and what return delivery method you choose.
Additional cost examples are:
Same day or express service (+ £123)
Return delivery costs (+ £20)
Notarisation by notary public (+ £90)
Embassy attestation/legalisation (from £75)
How long does it take to get an apostille for a UK NINo letter?
Standard processing times for getting an apostille is 1-2 working days.
Here is an explanation of the difference between the 1 to 2 day service times:
If your documents arrive by 10 am, it will take 1 day to process your documents + next-day return delivery.
If your documents arrive after 10 am, then it would take 2 days to apostille your documents + next day return delivery.
We also offer a same-day apostille service.
Documents must arrive before 10 am for the same-day service.
Documents can be collected around 4 pm the same day.
Same-day service assumes you can drop off and collect your documents on the same day.
The same-day becomes a 24-hour service if a courier service is used.
Read our article on how the same-day apostille service works.
Do I have to come to your office?
No, you don't need to come to our office unless you choose to do so. Depending on your choice, you can email a copy or post the original document.
When posting, we recommend using a tracked service. We return your documents in the same way.
If you want to come to our office and see a staff member, you need to arrange an appointment. Appointments are made on weekdays from 9 am to 10 am.
If you don't need to see a staff member and just want to drop off your documents – you can do so from 7 am to 10 pm, Monday to Friday. Please ensure you have an order number before dropping the documents off.
Weekend deliveries and collections can be arranged by appointment.
Can the National Insurance confirmation letter from Jobcentre Plus be legalised?
Yes, the official letter that you receive from JobCentre Plus bearing your National Insurance Number is accepted by overseas authorities as proof of National Insurance.
The original letter from the Department of Work and Pension does not contain a stamp or signature recognised by the FCDO, so both the original and a photocopy must be certified before legalisation.
How does certifying a NINo letter work?
A solicitor certifies that the original NI letter has been seen.
Notarising a copy of your National Insurance Number letter can be done in two ways:
The notary can notarise the NI letter as a "true copy."
The notary can notarise that the NI letter is "genuine."
A 'true copy' confirm that the notary has seen the original – and confirming the NI letter as 'genuine' requires the notary to take extra steps to verify the National Insurance Number.
For example, the notary could check with the Department for Work and Pensions (DWP) In England, Scotland, and Wales or the Department for Social Development in Northern Ireland [2].
Certification by a solicitor is sufficient for countries that are party to the Hague Convention 1961.
Countries that are not members of the Hague Convention may require notarisation.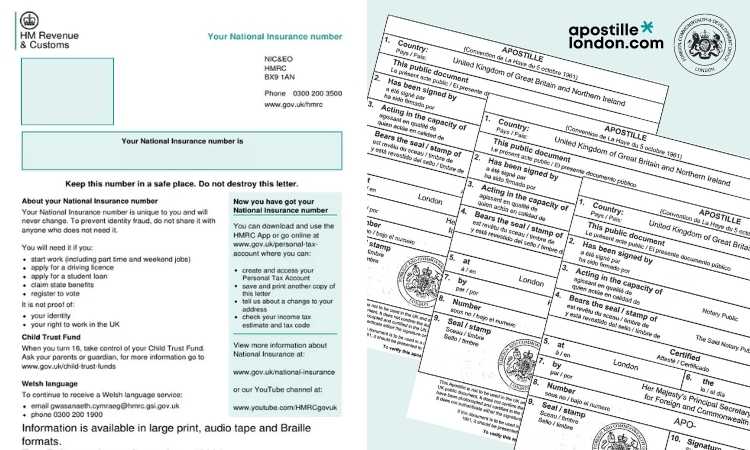 I am a foreign citizen can I still apostille my UK National Insurance letter?
Yes, anyone that has been issued a National Insurance number in the UK can have their NI letter apostilled.
All documents that have been issued in the UK can receive an apostille certificate. The NINo letter is a UK-issued document. Therefore, a certified copy of your National Insurance Number letter can be apostilled.
Can my European Health Insurance Card (EHIC) or my Global Health Insurance Card (GHIC) be apostilled?
Any EHIC that was issued in the UK prior to 1 January 2021 can be apostilled. An EHIC issued in another EU country cannot be apostilled by the UK Legalisation Office of the FCDO.
In the UK, after 1 January 2021, the EHIC was replaced by a Global Health Insurance Card (GHIC). The UK's GHIC can be apostilled by the FCDO.
Can I get apostilles for my related documents and cards (e.g., tax return, payslip, P60, pension document, etc.)?
Yes, you can get an apostille for other UK documents, such as P60, tax returns, pension documents, UK ID cards, etc.
For more information about UK documents, please read our article on What documents can be legalised.
If you require further information or have questions, please contact us anytime.