Getting an apostille for a UK passport is, in most cases, straightforward.
Please note that the actual (red or blue) passport cannot get the apostille certificate attached. Only a solicitor-certified photocopy of your passport can be apostilled.
The solicitor or notary will need to see your original passport before making a photocopy.
We can help with organising the entire passport legalisation process.
Same-day emergency service is available if we receive your passport before 10 am. Or you can request a 24-hour or a 2-3-day apostille.  Here's how.
How to order:  
Step one:
Check that your passport is valid long enough for the requesting authorities (usually 6 months +). If you hold dual citizenship and need both passports legalised, check both passports for the same.
Step two:
Get the passport(s) certified.
Since only a photocopy of a passport can be legalised, the solicitor or notary must see your original passport before they can certify a photocopy. Therefore, you cannot send them a photocopy.
Usually, customers post or drop off their passports at our London office.
In some cases, for example, if customers are overseas, it might be possible to certify your passport remotely via a live video call.
Step three:
Contact our office. Please provide the following information:
[or complete this form]
How many passports need an apostille?
Is your passport already certified?
In which country will your certified passport copy be used?
How soon do you need the apostille?
Will you be mailing or dropping off the documents?
Any other information that we need to know about
When we have all the information, the team will assess your enquiry and give you are personalised and detailed quotation.
If you accept the quotation, we send an invoice to be paid, and the process of getting an apostille for your birth certificate starts.
Step four:
As soon as your birth certificate has been apostilled, we will send you a scanned copy via email to inform you that the process has been completed successfully and your certificate is on its way or ready to be collected.
If you are not collecting your apostilled certificate from our London office – we will provide you with the DHL tracking number given by the courier.
Note that we return documents with DHL (only). DHL return deliveries – both national and international require the following details:
A full name
Full return address
Contact phone number
How much does it cost?
A UK FCDO apostille for a passport starts from £110 (includes solicitor fees, FCDO fees, our fees and VAT).
Other costs will depend on what service you choose (same-day service, 24 hours or 2 days) if you need a notary public or solicitor service, embassy fees if required and what return delivery method has been chosen.
What is a passport apostille?
A passport apostille is an official UK government certificate attached to a colour copy of a UK passport for UK citizens. The apostille certificate confirms that the signatures on the passport are verified and authentic. It does not prove that the passport is genuine.
Where can I get an apostille for a passport?
In the UK, the only place you can get an apostille for your passport is from the Foreign, Commonwealth and Development Office (FCDO).
As a registered apostille agent with the FCDO, we can help and facilitate getting an apostille for your British passport.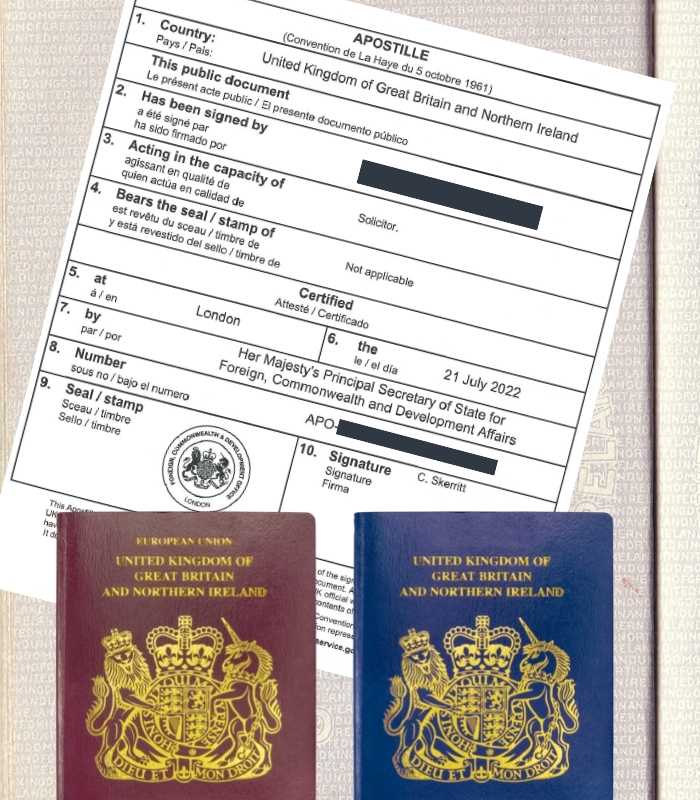 Why do I need to apostille my passport?
You only need to apostille your passport if an overseas authority has requested that you do so.
The legalisation with an apostille for the passport is usually requested to satisfy overseas authorities that your ID documents are authentic and government verified.
Why can only a copy of a passport be apostilled?
A UK passport is an official and legal UK government document and therefore can not be altered in any way. Attaching a UK apostille to a passport would alter that document and make it invalid. [4]
This is why only a full-colour photocopy of a UK passport can be legalised with the apostille.
How long is the apostille on the passport copy valid?
The apostille attached to the photocopy of the passport is valid as long the passport is valid.
The apostille does not have an expiry date; a passport does. Passports are issued for ten years in the UK before you have to renew them.
In addition, overseas authorities might request that the apostille on your photocopy be issued within a specific time frame or set a time limit before the passport expires like it needs to be valid for at least 6 months before the passport expires.
Can you get a UK Apostille on a non-UK passport?
Yes, it could be possible. A UK apostille can be attached to a non-UK passport – if the foreign passport has been certified by a UK notary public.
However, this is not guaranteed. It also depends on whether the passport issuing country is part of the Huge Convention. The FCDO could still reject the certified copy.
The foreign passport should be legalised in the country of origin. Only if that is not possible should you consider legalising in the UK. We cannot guarantee non-UK document legalisation.
Can I legalise my passport if I am abroad?
It is possible to legalise your passport with an apostille from abroad. You need to post your original passport to our office so that our solicitor or notary public can take a photocopy and certify that copy as authentic for the FCDO.
Once your passport has been certified, the apostille process can begin.
The authority that requested for your passport to be legalised should also have informed you if your passport needs further legalisation beyond the UK apostille certificate from the FCDO.
What if I don't feel comfortable sending my original passport?
We get it. Your passport is your most crucial ID document, and scams and fraud are too common.
We assure you that as much as we can, we will protect your identity and keep your personal details private and confidential throughout the legalisation process.
We are a government-registered agency, so our identity can easily be verified. We have never had an issue with document fraud since we've been in business for 15+ years.
We are also an ICO-registered business ( ZB325205). [7]
Instead of posting your passport, if possible, you can come in person to our office and have your passport certified.
Or, in certain circumstances, verification and certification might be possible via live video call with our notary. Please enquire.