You can get an apostille for a marriage certificate from the FCDO website or hire a registered apostille agency to complete the legalisation process for you. The DIY approach requires knowledge of the legalisation process and can take up to 20 days or longer.
Getting help via an apostille service takes care of everything, and your marriage certificate can be apostilled in 2-3 days. Sooner if you need it urgently.
How to order:
Note that an e-apostille (electronic apostille) cannot be used for a marriage certificate.
Step one:
UK marriage certificates are protected by Crown copyright. This means that they cannot be photocopied. Only the original (green or red forms) or original official copies issued by the General Register Office (GRO) or local Registry Offices can be apostilled and legalised.
Step two:
We need the original or official copy to get the apostille. You must either mail your marriage certificate or drop it off at our central London office.
Step three:
Contact us to place an order.
When emailing, please provide the following information:
How many certificates need an apostille?
In which country will your marriage certificate be used?
How soon do you need the apostille?
Once we have all the information, the team will assess your enquiry and give you a personalised and detailed quotation.
If you accept the quotation, we send an invoice to be paid, and the process of getting an apostille for your documents starts. We will take care of everything.
Final step:
As soon as your marriage certificate has been apostilled, we will send you a scanned copy via email.
Regardless of what return delivery method is chosen (in person, self-addressed envelope, DHL etc.), we will inform you immediately as soon as the documents are ready to be collected or they are on their way back to you.
Assuming that you are not collecting your apostilled documents from our London office – we will also provide you with the DHL tracking number as soon as your forms have been given to the courier.
Note that we return documents with DHL (only). DHL return deliveries – both national and international require the following details:
A full name
Full return address
Contact phone number
How much does it cost?
A standard apostille for a UK marriage certificate starts from £79.
Other costs will depend on what service you choose (standard or same-day service), embassy fees if required and what return delivery method is required.
Replacement documents:
We do not offer a replacement service currently. You can get a replacement marriage certificate by applying on the government's General Register Office website. [1]
Who can request an apostille for a marriage certificate?
Anyone from overseas can request an apostille. In most cases, an overseas authority requests the legalisation of documents.
Overseas authorities like:
Governments

Solicitors & notaries

Religious organisations

Immigration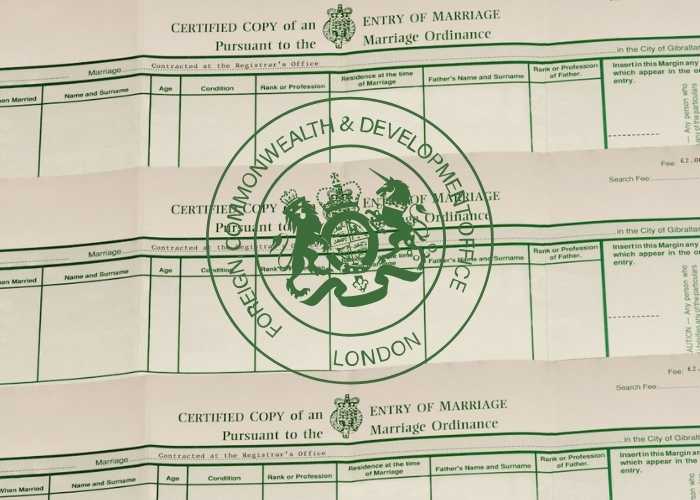 Why can an apostille be requested for a marriage certificate?
An apostille for marriage certificates can be requested to prove to overseas authorities that the GRO or local registrar's marriage certificate is valid and authentic.
If you got married overseas or have dual citizenship, or your spouse is not a UK citizen by birth or if the marriage is very young, are some reasons why an apostille may be requested to verify its validity.
Where can a marriage certificate be apostilled in the UK?
In the UK, the Foreign, Commonwealth & Development Office (FCDO) is the only competent authority where you can get an apostille for your marriage certificate. The apostille can be obtained via the official FCDO website, or you can hire an FCDO registered apostille agency to get an apostille.
What information is required to get a marriage certificate apostille?
To get an apostille for your UK marriage certificate – you need to provide the original certificate or an official copy (replacement) certificate.
The FCDO (and apostille agencies) will also request basic contact details in case you need to be contacted and for returning your apostilled marriage certificate.
Does my marriage certificate need to be translated for overseas use?
If your marriage certificate needs translation will depend on the requesting authority and country. If your certificate is used in an official legal capacity it will most likely need to be translated. It is best to check with them if your documents need to be translated.
Also, check if the translated version of your marriage certificate needs to be apostilled too.
Can a UK apostille be attached to a non-UK marriage certificate?
It is possible to apostille non-UK marriage certificates. However, foreign marriage certificates must first be notarised before an apostille can be attached.
To notarise the foreign marriage certificate, the original must be presented to the notary to be checked to confirm its authenticity. The notary will make a copy and notarise a copy of the foreign marriage certificate for the apostille.
Getting an apostille for religious marriage certificates
Does the marriage certificate need further legalisation after the apostille has been attached?
Your marriage certificate might need further legalisation via an embassy or consulate if the country requesting the apostille is not part of the Hague Apostille Convention. Some countries' embassies, like China, will not legalise non-UK marriage certificates.
How long does it take to get an apostille for a marriage certificate?
Standard processing times for getting an apostille is 2-3 days.
Here is an explanation of the difference between the 2 to 3 day service times:
If your documents arrive by 10 am, it will take 2 days to process your documents + next day return delivery.
If your documents arrive after 10 am, then it would take 3 days to apostille your documents + next day return delivery.
We also offer a same-day apostille service.
Documents must arrive before 10 am for the same-day service.
Documents can be collected around 4 pm the same day.
Same-day service assumes you can drop off and collect your documents on the same day.
The same day becomes a 24-hour service if a courier service is used.
Read the full same-day apostille service explanation.