Do you need a certified translation for your P60 or P45? Find out more about translating below. ↓
Ordering an apostille directly via the official government website can take 20 days or longer before you receive your apostilled P60 or P45.
The fasted way to get an apostille for P60 or P45 forms is from an FCDO-registered legalisation agency, like us. As a registered apostille service provider, we can reduce the legalisation process for the apostille to 24 hours.
How to order:  
Step one:
Prepare your P60 or P45. Make sure they are legible, free from holes, staples etc. and have no other marks that obstruct or hide any of the information on the form.
Step two:
P45 and P60 forms must be certified by a UK registered solicitor or notary public before they can be apostilled.
If you are organising your own certification, ensure that the solicitor or notary you are using is registered with the UK FCDO to avoid delays in processing your documents.
If you don't want to organise your own certification, we can provide this service for you. Our solicitors and notaries certify thousands of documents each year, and certification can be completed the same day we process your documents.
Step three:
Contact our office by phone or email and let them know you need your P60 and/or P45 apostilled.
When emailing, please provide the following information:
[or complete this form]
How many documents do need an apostille?
Are your documents already certified? If not, instruct our team to certify the documents.
Is the apostille for the original P60 or P45 – or a photocopy?

*

In which country will your documents be used?
How soon do you need the apostille?
* If you use a photocopy, you do not need to send the originals to our office. Most customers choose this option as it saves time and keeps the original forms intact. Just send the photocopy via email.
Once we have all the information, the team will assess your enquiry and give you are personalised and detailed quotation.
If you accept the quotation, we send an invoice to be paid, and the process of getting an apostille for your documents starts. We will take care of everything.
Step four:
The finishing steps. As soon as your P60 or P45 form has been apostilled, we will send you a scanned copy via email so you know the process has been completed successfully and your documents are on their way or ready to be collected.
Regardless of what return delivery method is chosen (in person, self-addressed envelope, DHL etc.), we will inform you immediately as soon as the documents are ready.
Assuming that you are not collecting your apostilled documents from our London office – we will also provide you with the DHL tracking number as soon as your forms have been given to the courier.
Note that we return documents with DHL (only). DHL return deliveries – both national and international require the following details:
A full name
Full return address
Contact phone number
How much does it cost?
A standard FCDO apostille for P60 or P45 document starts from £110. (includes solicitor fees, FCDO fees, & VAT).
Other costs will depend on what service you choose (standard or same-day service) if you need a notary or solicitor service, embassy fees if required and what return delivery method is required.
What types of P60s & P45s can be legalised with an apostille?
The types of P60 or P45 forms include original hard copies, photocopies of the originals, and electronic forms that have been downloaded. 
However, all these alternatives must be certified by a solicitor or notary before apostille legalisation by the UK government.
It is important to note that the original P60 cannot be duplicated. Therefore, you have to keep it in a secure place.
Ordering via postal from (in rare cases only)
Ordering an apostille for a P60 via an order form takes time and often delays the process as there might be issues with the documents etc., that can only be discovered once the forms arrive via post in our office.
Note that we only provide a postal form in exceptional circumstances. Please contact our office if you need more information about ordering via a postal form.
Complete P60 & P45 apostille service
The following are the services provided by our apostille service:
Checking the P45 or P60 document
Processing the original document or producing a coloured copy
Signing and certification by a solicitor.
Provide the FCDO apostille within 1-2 days.
Secure return delivery of your documents
Get a certified translation for P60 and P45 documents
Depending on what country you need to use your PAYE forms, the P60 and P45 might need to be translated and certified to be accepted as true copies of the originals.
The requesting authority will tell you if you need to certify and translate your P45 & P60.
The requesting authority should also tell you if you need to translate the form with or without the apostille.
We provide official certified translation services that are easy to order, reasonably priced, accurate and delivered quickly.
Contact us, or read more about certified translation.
When do you need a UK apostille for a P60 or P45?
You would need the P60 or P45 (or both) because an overseas authority requested the legalisation of those documents.
A few examples are:
To provide evidence of a fiscal residency.
To avoid double taxation.
For employment history or as evidence for employment.
When applying for a loan or mortgage.
Here's a look at both of these income tax documents
P60 and National Insurance contributions
P60 is a form containing details of an employee's income tax and national insurance contributions for the whole financial year. It is usually issued at the end of the year.
When issuing proof of your income, tax paid, employment, or fiscal residency to an authority abroad, you might need apostille certificates, including a solicitor-certified original document for the P60 for authentication purposes.
P45 document
The P45 is a document issued to you by your employer when you stop working for them. A P45 shows the tax an employee paid in their home country during a tax year.
The P45 is divided into parts: Part 1, 1 A, 2, and 3.
Your employer sends the information for part 1 to HM Revenue and Customs (HMRC). They then give you the remaining parts.
You then give the remaining two parts, 2 and 3, to the new employer. ( In case you are not working, give it to Jobcentre Plus)
Part 1 A is yours to keep for your personal records.
It is a legal requirement for employers to issue their staff with a P45. You can always ask your employer for one.
If you doubt the total tax, you incurred in the previous year or in case you suspect double taxation, you can use this form for confirmation.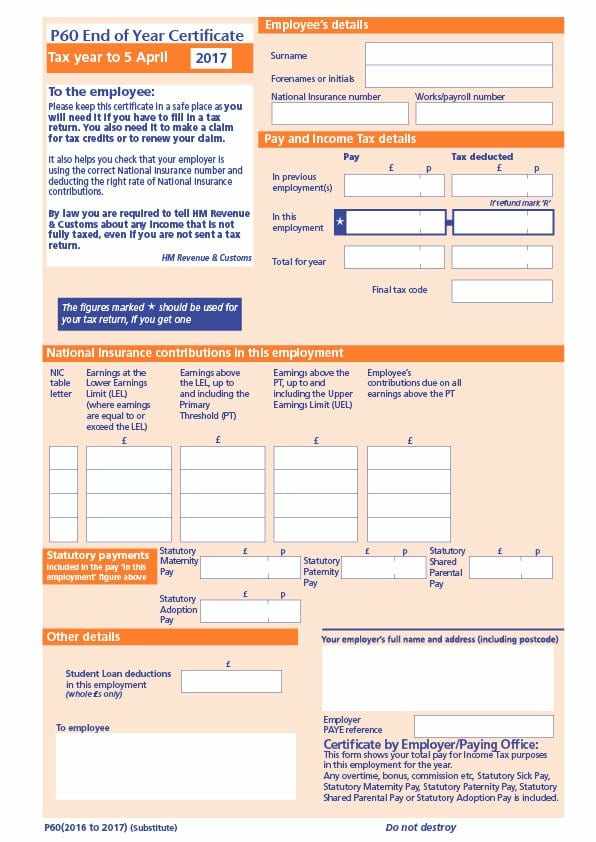 What happens if you don't have a P45?
Without a P45, your employer will have to calculate the tax you should pay with your salary.
This is often the case when:
It is your first-ever job.
It is the second job that you are taking.
It is impossible to get your previous employer to give you a p45.
It is also essential to let your new employer know if you still have a pending student loan. The employer can request information known as 'starter checklists'.
Your employer uses this information to calculate your correct tax code before your first earnings if you have not obtained a P45.