We need to receive the original diploma qualification to get an apostille.
Once we've confirmed your diploma, we can certify the original or a copy of the diploma.
Getting an apostille usually takes 2 to 3 days, and costs start from £110, including solicitor fees, FCDO fees, our fees, and VAT.
We can return the legalised documents via DHL courier (next-day service), or you can collect them in person.
Jump to: How much does it cost? ↓ How long does it take?
The full order process
Step one:
We need to receive the original diploma even if you want to apostille a copy.
Step two:
Contact our office.
Please provide the following information:
In which country will your diploma be used?
Should we legalise the original or a certified copy?
How soon do you need the apostille?
Do you also require embassy legalisation?
How will the diploma be delivered and returned?
When we have all the information, the team will assess your enquiry and give you a detailed quotation.
If you accept the quote, the process of getting an apostille starts.
Step three:
Once your diploma has been apostilled, we will send you a scanned copy via email.
If you are not collecting your apostilled document from our London office – we will provide you with the DHL tracking number given by the courier.
Note that we return documents by DHL courier only. If you want to make other arrangements, please let us know.
Getting an apostille for a diploma starts from £110. (includes solicitor fees, FCDO fees, our fees & VAT).
Other costs will depend on what service you choose (same-day service), if you also need embassy attestation, and what return delivery method has been chosen.
Additional cost examples are:
Same day or express service (+ £123)
UK return delivery costs (+ £20)
Notarisation by notary public (+ £90)
Embassy attestation (from £75)
How long does it take to get an apostille?
Our standard processing time for getting an apostille is 2-3 days.
Here is what 2 to 3 days mean:
If your documents arrive by 10 am, it will take 2 days
If your documents arrive after 10 am, then it will take 3 days
(+ next-day return delivery if required)
We also offer a same-day apostille service.
Documents must arrive before 10 am for the same-day service.
Documents can be collected around 3 pm the same day.
If a mailing or courier service is utilised, the same day becomes a 24-hour service.
Do I have to come to your office?
No, your diploma or other educational certificates can be sent by courier or post. We recommend using a tracked service if you send your documents by post. We return your documents in the same way.
If it is more convenient, you can attend our office in person to both deliver and collect documents.
Can one apostille cover additional documents with my diploma?
It is possible to obtain a single apostille for a set of documents. Suppose all documents relate to one individual and are of a similar type (e.g. academic qualifications). In that case, they can be bound together in a single legal binding with a cover sheet.
The cover sheet details the number and type of documents within the bundle.
The cover sheet must be prepared and signed by a solicitor. The advantage of getting a single apostille for a set of related documents is that it can reduce costs.
The main disadvantage of getting one apostille for multiple documents is that some countries (e.g. UAE and Qatar) require each document to be legalised separately.
Always check the requirements in the country where your apostilles will be presented.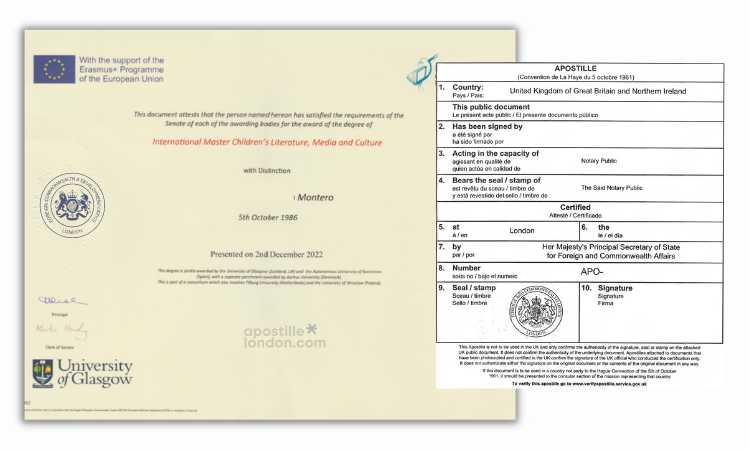 Is there a deadline for applying for an apostille for my UK diploma?
There are no deadlines set by the FCDO on applying for an apostille for a UK diploma.
However, if you need the apostille to get a visa or work permit overseas, a deadline may be set by the authorities (or by a prospective employer) in your destination country.
UK universities and other academic institutions do not impose any deadlines on applying for an apostille for their diplomas.
Always check whether any deadlines have been set by the authorities in your destination country.
Can the FCDO refuse to issue an apostille for my university diploma?
Yes. There are a number of reasons why the Legalisation Office may reject your application for an apostille.
For most diplomas and other academic qualifications, a certified copy is submitted to the FCDO. A notary public or solicitor should do the certification.
A solicitor who certifies the copy must fulfil the following requirements:
1

They must be registered as a currently practising solicitor with the Solicitors Regulation Authority (SRA)

2

Their name and a sample signature must be on the FCDO's database of approved certifiers

3

They must certify the copy correctly as a 'true copy'
A correct certification must include the solicitor's official stamp showing their name, company and address. It must also include a date and a 'wet' signature (signed with pen and ink).
The diploma must have been granted by a UK university and certified by a UK solicitor.
Finally, the institution that awarded the diploma must be registered with the UK government and authorised to grant diplomas.
If any of the above conditions are not met, the FCDO will reject the application.
Is diploma attestation the same as apostille legalisation?
No, diploma attestation is not the same as apostille legalisation. Attestation of a diploma confirms that it is genuine and has been granted by an authorised academic institution in the UK.
The apostille constitutes an official acknowledgement by the FCDO of the legal standing of the diploma. Apostilles are accepted in all countries that are signatories of the Hague Convention on apostilles.
Countries not a party to the Hague convention require further attestation by their embassy in the UK (See below).
How are UK university diplomas verified by an embassy?
Embassy attestation involves a threefold process of verification. In the first stage, a solicitor or notary public certifies the diploma.
Solicitors normally certify only that they have seen the original and that the copy is a 'true copy'.
In order to confirm that the diploma is genuine, a notary public will check with the institution that issued the diploma. The notary will also establish that the institution which issued the diploma is accredited for this purpose.
Many solicitors in the UK are also notaries public.
In the second stage, an apostille for the diploma is obtained from the FCDO.
The third stage, the embassy's attestation, cannot take place until the first two stages have been completed.
How can I verify my apostilled diploma to ensure the certificate is genuine?
Provided you have the number of the apostille and the date on which it was issued, you can verify the apostille certificate by using the tool on the government's legalisation office website [6].