To get an apostille, the original degree certificate must have been issued by a recognised UK university or institute where you completed the educational course.
Some online 'only' university degrees may now be apostilled in the UK. Check with our office if your online-only degree qualifies for an apostille.
Let us know if we should apostille the original or a certified copy.
Jump to: How much does it cost? ↓ How long does it take?
How the order process works:  
Step one:
We need to receive the original degree even if you want to apostille a copy.  Check with the requesting authority if the original or copy can be apostilled.
Step two:
Both the original and copy of degree certificates must be certified by a solicitor or notary public before they can be apostilled.
If you don't want to organise your own certification, we can provide this service for you.
Step three:
Contact our office by phone or email and let them know you need your degree certificate(s) apostilled.
Please provide the following information:
Do you also need your transcripts apostilled?
Is the apostille for the original – or copy?
In which country will your documents be used?
Do you require a translation of your degree?
How soon do you need the apostille?
How is the degree delivered and returned?
Once we have all the information, the team will assess your enquiry and give you a detailed quotation.
If you accept the quotation, we will take care of everything.
Step four:
When your degree certificate has been apostilled, we will send you a scanned copy via email to confirm the process has been completed successfully.
Your documents are on their way or ready for collection.
If you are not collecting your apostilled degree from our London office – we'll provide you with the DHL tracking number as soon as they've been given to the courier.
Note that we return documents with DHL (only).

How much does it cost?
An apostille for a degree certificate costs £110. (includes solicitor fees, FCDO fees, & VAT).
Other costs will depend on what service you choose (express or same-day service), if you need a notary, embassy attestation fees, and what return delivery method has been chosen.
Additional cost examples are:
Same day or express service (+ £123)
UK return delivery costs (+ £20)
Notarisation by notary public (+ £90)
Embassy authentication (from £75)
Translations (from £60)
How long does it take to get an apostille?
Our standard processing time for getting an apostille is 2-3 days.
Here is what 2 to 3 days mean:
If your documents arrive by 10 am, it will take 2 days
If your documents arrive after 10 am, then it will take 3 days
(+ next-day return delivery if required)
We also offer a same-day apostille service.
Documents must arrive before 10 am for the same-day service.
Documents can be collected around 3 pm the same day.
If a mailing or courier service is utilised, the same day becomes a 24-hour service.
Do I have to come to your office?
No, you don't need to attend our office in Westminster. Documents can be sent by courier, post, or email.  We recommend using a tracked service if you send your documents by post. We return your documents in the same way.
You are of course welcome to drop documents off and collect in person. Delivering in person requires that you have an order number. Please make sure you contact our office first.
Regardless of what service type you choose, the following is always included:
If documents need to be certified, we get a solicitor

We submit your documents to the FCDO for the apostille

We arrange the embassy attestation if needed

If required, we also arrange for the Arab Chamber of Commerce certification

Documents are returned by your preferred chosen method.

We are competitively priced with no hidden fees

We have a service guarantee! If we can't get your degree legalised, we refund our fee.
How does the notarisation of UK university degrees work?
To get your university degree notarised you need to follow the following steps:
1

Provide the original university degree for the notary

2

You must provide ID (passport) and proof of address

3

You must complete a 'letter of consent' to contact HEDD

4

The notary will contact and verify your degree with the university

5

The notary will attach their official seal and signature to your degree.

6

Once notarised, you can submit your degree to get an apostille.
Please note that verification with HEDD can take several weeks.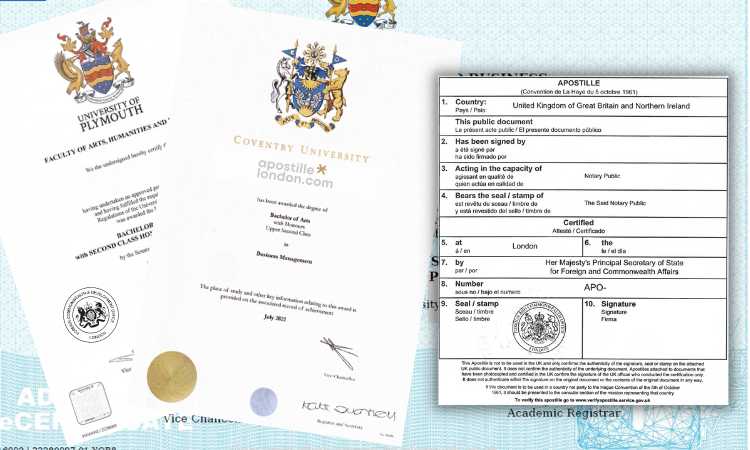 What information should the solicitor certification include?
The solicitor should include the following when certifying your degree certificate for the apostille service.
They should state what they are certifying (true copy, original document, witness signature etc.)

They should use their own personal signature, not the company name

They should include the date of the certification

They should state their company address
Please note that some authorities abroad will not accept copies of certain documents, even though they can be legalised. If you want to ensure your degree certificate copy will be accepted, contact the concerned foreign authority.
What authentication options are there for UK degree certificates?
Original degree

Copy of degree, no verification

Copy of degree, with verification

Original degree & transcript in a bundle

Original degree & transcript separately

Copy of degree & transcript in bundle, unverified

Copy of degree & transcript separately, unverified

Copy of degree & transcript in a bundle, verified

Copy of degree & transcript separately, verified

Translations of degrees
Examples of types of degree certificates that can be legalised:
If your degree is not listed above, contact us, we can legalise all UK degrees.
What is the UK degree attestation process?
The degree attestation process is a service provided on top of the apostille certificate. Some countries may require the apostilled degree certificate to be legalised further by the consulate of the country you wish to use it.
We provide degree certificates legalised and apostille certificates for international use when needed.
Can I get an apostille for my degree certificate if I am not in the UK?
Yes, you can get an apostille for your UK degree even if you are not in the UK.
You can also check if the British Embassy in the country you are in can authenticate your degree.
If the local embassy does not authenticate your degree, you will have to send us the original or a certified copy.
A copy of your degree is preferred as you can email it, and we can certify that digital copy for you. Before sending us the electronic copy, ensure that the requesting authority accepts a certified copy. Some countries will only accept the original.
Also, your degree might require embassy attestation if the country is not part of the Hague Convention. Again, please check with the requesting authority.
If you have several degree documents or want to include your transcript, we can bind documents into sets to save you money.