Giving someone the Power of Attorney (POA) means that the person can legally act on your behalf. Suppose you wish to have someone act on your behalf in another country. In that case, that authority often requires verification of the POA, and one way of officially verifying the POA is to have it legalised.
We are a government-registered service provider and can provide an apostille for your power of attorney and other documents for overseas use – often in just one or two days.
Should your POA require translation, we can also arrange for a certified translation guaranteed to be accepted by the UK and overseas authorities.
What it is:  
A Power of Attorney (POA) is a legal document that allows you to appoint another person to act on your behalf. [1]
Frequently used for:
For example, a POA is used when buying or selling a house, boat, or car in another country. You can appoint a lawyer, or another person in that country, to represent you.
Original or copy:
The original document is required for the apostille service. Your signature on the POA MUST be witnessed by a practising UK solicitor or notary public.
Photocopies of the POA can not be used to get an apostille in the UK.  [2]
Good to know:
There are two main types of power of attorney in the UK.
Lasting power of attorney(LPA)
General power of attorney (POA)
Replacement documents:
If you need to replace or create a new POA, a new document must be made, and a UK solicitor or notary must again witness your signature.
How much does it cost?
A standard apostille for a power of attorney starts from £110. (includes solicitor fees, FCDO fees, our fees & VAT).
Other costs will depend on what service you choose (same-day service available) if you need a notary service, embassy fees if required and what return delivery method is required
How can I legalise my power of attorney?
To legalise a power of attorney (POA) with the official UK government apostille, a UK solicitor or notary public must first sign the document. Then send the document to our central London office by recorded delivery. We then take the POA to the official legalisation office in London or Milton Keynes to get the apostille certificate.
Can a POA be notarised remotely?
A POA cannot be notarised remotely as UK law requires the signing/signature to be witnessed in person by the solicitor or notary public if the POA needs to be legalised. [3]
The witnessing ensures that the authorised persona signs the POA and that the person signing the POA is not under duress.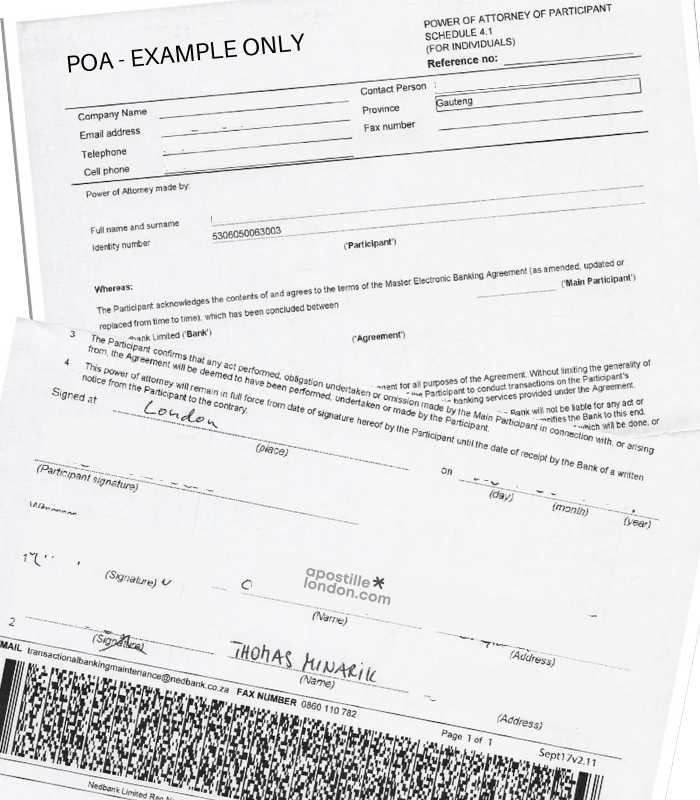 Why must power of attorney be witnessed?
The signing of a power of attorney must be witnessed to protect against duress and forgery.
Should the POA be disputed, the witness may be required to provide unbiased evidence of the signature's circumstances. [4]
Can a solicitor witness the POA on my behalf?
No, a solicitor cannot be a witness on your behalf. The solicitor can only be a witness to you signing the POA.
So, for us to legalise your POA, you must first organise to have your POA witnessed and signed (certified). Make sure that the solicitor or notary you use is registered with the UK FCDO office so that they recognise and can confirm their signature too to apply the apostille.
What the solicitor or notary will need from you:
Proper records must be kept for each POA. You need to provide proof of identity and proof of address. The fees will depend on what service type you require, single or multiple documents, if the POA needs translation or courier service and if you need a standard or premium service.
Can the FCDO reject the POA?
The FCDO could reject your POA document if the signing was not witnessed by a practising UK solicitor or notary public. Anyone can witness a personal POA if they are over 18, but if the POA needs to be legalised, it must be witnessed by a UK solicitor or notary.
The POA will also be rejected if you submit a photocopy of your POA. Only the original can be certified with the apostille certificate.
If your POA is laminated, stabled, hole punched or modified in any other way, the document will also be rejected.
Embassy or Consular attestation
The overseas authorities that requested the POA to be legalised may also require the POA to be authenticated with their country's Embassy or Consulate in London. They would usually inform you of this. If the country is not part of the Hague Convention, you would need embassy legalisation, so it's worth double checking.